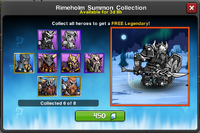 Description
A new collection of Heroes has been released! The Rimeholm Summoning is now available for players looking for early access to our latest and greatest heroes!
In the bitter northern realm of Rimeholm, High King Gard and his court have turned to the black arts in order to restore their kingdom's former glory! Will their strength be enough to regain their lost lands? Will it be worth the cost?
Collect each hero in the Rimeholm Summoning to get High King Gard, HonorBound's first four-star Legendary!
Specifications
Date: 2014-03-26
Summoning Cost: 450 Diamonds.
Drop Rates
Prize
Gallery
Ad blocker interference detected!
Wikia is a free-to-use site that makes money from advertising. We have a modified experience for viewers using ad blockers

Wikia is not accessible if you've made further modifications. Remove the custom ad blocker rule(s) and the page will load as expected.